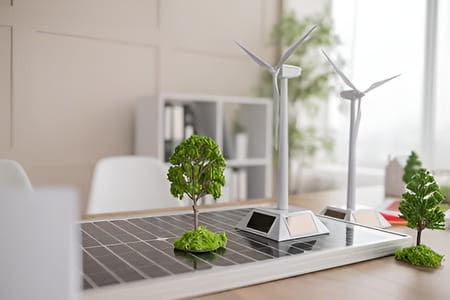 We are currently at a point where the ecological transition is no longer merely an option, but a necessity in order to combat or reduce the effects of climate change. As companies, we have to incorporate environmental responsibility as one of the values of our operations, both in our processes and in our relations with suppliers and customers.

At Induplast, we are aware of the climate crisis, which is why we are taking action within the business to help protect our ecosystem. Today we would like to present two innovative and pioneering sustainability projects that we have been involved in.
bound4blue, rigid sail technology for vessels
This is a startup that has developed an
innovative assisted propulsion system
that is able to propel vessels by means of the wind. This makes it possible to reduce engine power and, consequently, fuel and pollutant emissions from ships by up to 40%. How does it work?
bound4blue
has developed rigid, collapsible, autonomous sails that are integrated into the vessels, which use wind to create momentum.
This is undoubtedly a great initiative for combatting carbon emissions, and for committing to more sustainable, cleaner and more efficient mobility.
Bioo, electricity from nature
Bioo
's mission is to generate
100% clean electricity from the combination of technology and nature.
One of its most outstanding projects is the
Bioo Panel
, a biological battery that generates energy from the decomposition of organic matter using microorganisms in organic soils. At the same time, they have also developed a biological switch capable of activating sounds, screens, voices and lighting using living plants and the touch of a human being.
A solution that can revolutionise the traditional way of producing energy and bring us closer to a greener and more sustainable future.
As experts, how do we contribute to engineering plastics and their uses?
Plastic, thanks to its characteristics and qualities, is great when it comes to creating for these types of projects. One of the main advantages of this material is its low weight, which reduces the weight of the structures while minimising the required energy consumption. Another advantage of plastic is that it can easily be moulded to suit many design options to match the infrastructure.

We would also like to emphasise that plastic is a recyclable material that can be given a second life. In its latest designs, bound4blue used technical elastomer profiles for different purposes, such as the sealing and waterproofing required for its system. This is a product area that Induplast has also developed in order to continue offering the customer alternatives and solutions.

The Induplast team works hand in hand with sustainable companies, advising them on the materials and manufacturing processes of the necessary structures that best suit each project. We will continue to support companies that contribute to environmental conservation, and to support our customers' sustainable initiatives.