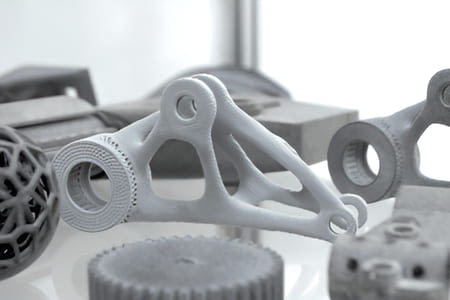 What is Multi Jet Fusion printing?
MJF printing
,
also called 3D fusion printing, is a 3D printing technology
developed by
Hewlett-Packard
. It is characterised by precision parts, with highly detailed designs and complex shapes. It is a technology used in projects where fully functional parts are required within a short time frame.
For 3D fusion printing, the
HP Jet Fusion 3D
printer is used, a tool that ensures quality manufacturing and optimisation of productivity and cost.
How does the HP Jet Fusion 3D printer work?
The printer deposits the polyamide powder layer by layer on the surface of the material to be used.

Injector agents give colour to the part.

Heating elements fuse the painted material (at approximately 290º).

One layer is deposited on top of the other until the part is created.

Once cooled, the manufactured parts are removed.

When the part is finished, the excess powder is removed.

Post-production processes: Additive manufacturing has post-production processes to optimise finishes.

What material is used for Multi Jet Fusion printing?
The material used is fine grain
Polyamide PA12
which allows very
thin layers of about 0.08mm to be achieved.
This type of material enables the
production of end-use prototypes
, which are highly resistant to mechanical and thermal stresses. Other characteristics of polyamide include:
Ability to have various densities per inner mesh.
Chemical resistance.
Good electrical insulator.
Lightweight material.
Good finishes.
Multi Jet Fusion Applications
With Multi Jet Fusion printing,
it is possible to create customised plastic parts with complicated geometric shapes, which are often difficult to machine.
These characteristics mean that there are many sectors where it can be used, such as the aeronautical, biotechnological, automotive or electrical sectors, among many others.
If you are interested in 3D fusion printing, get in touch! We will create a customised quote for your 3D printing needs.